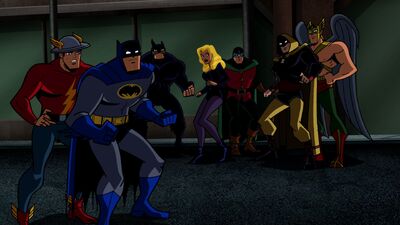 The Golden Age of Justice! is the thirty-first episode of Batman: The Brave and the Bold.
November 20, 2010
In a Agatha Christie type mystery Batman and Detective Chimp join forces to find out who swiped the Golden Skull and discover that one of the suspects is actually False-Face.
Main Plot
Edit
An aging Justice Society of America (consisting of the second Black Canary, Doctor Mid-Nite, the Golden Age Flash, Hawkman, Hourman, and Wildcat) is faced with the return of their worst enemy Per Degaton as he returns from suspended animation to enact a plan for world domination with his assistant Professor Zee. Meanwhile, Black Canary helps Wildcat face his greatest regrets which involved the original Black Canary.
???
Diedrich Bader as Batman
Kevin Michael Richardson as Detective Chimp
Tress MacNille as Maid
Corey Burton as False-Face/Dr. Mid-Nite
Grey DeLisle as Black Canary
Andy Milder as Jay Garrick
Lex Lang as Hourman
William Katt as Hawkman
R. Lee Ermy as Wildcat
Clancy Brown as Per Degaton
Dee Bradley Baker as Professor Zee