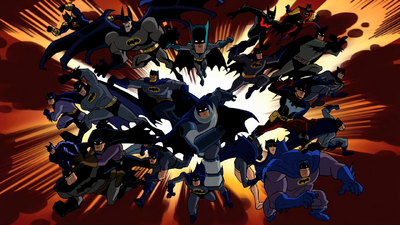 Night of the Batmen! is the fifty-fifth episode of Batman: The Brave and the Bold.
April 8, 2011
Batman and The Vigilante have a showdown against some gangsters, and Vigilante sings throughout the fight.
Main Plot
Edit
Batman is hurt after preventing Kanjar Ro from destroying a planet and hospitalized. Aquaman reveals Batman's condition in his new memoir. Aquaman, Captain Marvel, Green Arrow, and Plastic Man wear his costume and go to protect Gotham City from criminals like Deadshot, Cavalier, Babyface, Killer Moth, Sportsmaster, Fun Haus, Penguin, Bane, Blockbuster, Solomon Grundy, Killer Croc, and Catwoman, who are on a crime wave after hearing Batman is out. When Joker ends up taking the four of them down, Batman must evade the care of Martian Manhunter to stop Joker's plot.
This episode was adapted from a story in the companion Batman: The Brave and the Bold comic book published by DC's all-ages imprint Johnny DC. Also, character designs from The New Batman Adventures, Batman Beyond, and The Batman (among others)appear at the end of the episode.
Diedrich Bader as Batman/Solomon Grundy
John DiMaggio as Vigilante/Aquaman
James Arnold Taylor as Green Arrow
Tom Kenny as Plastic Man/Deadshot/Baby-Face
Jeff Bennett as Captain Marvel/Joker
Nicholas Guest as Martian Manhunter
Greg Ellis as Big-Headed Batman/Cavalier
Stephen Root as Penguin/Killer Croc
Nika Futterman as Catwoman