Long Arm of the Law!
is the twenty-seventh episode of
Batman: The Brave and the Bold
.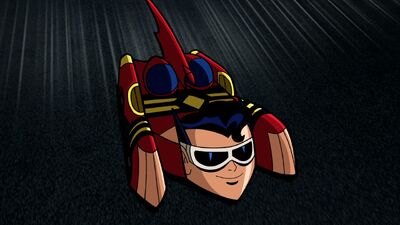 October 16, 2009
Batman and Plastic Man rescue some boy scouts from a group of sleeping Shaggy Men, until Plastic Man awakens them.
Main Plot
Edit
Kite Man plans revenge on Plastic Man for putting him to jail after years working for him as one of his henchmen. With a new sidekick named Rubberneck, Kite Man threatens Plastic Man's family, including his wife Ramona, his son Baby Plas, and his sidekick Woozy Winks, and also plans to remove his powers as well.
Footage of Jonah Hex from Return of the Fearsome Fangs! appears on the movie screen during Plastic Man's flashback to people that might hate him.
Diedrich Bader as Batman
Tom Kenny as Plastic Man
Stephen Woots as Woozy Winks
Jennifer Hale as Ramona O'Brien
Jeffrey Combs as Kite Man
Jeff Bennett as Rubberneck