Invasion of the Secret Santas!
is the fifth episode of
Batman: The Brave and the Bold
.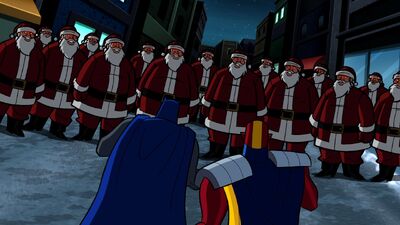 December 19, 2008
Batman and Blue Beetle fight the Sportsmaster, when he crashes a Christmas bowling tournament.
Main Plot
Edit
Batman teams up with the Red Tornado to battle Fun Haus, who plans to ruin Christmas for everyone with his army of toys.
There is a running gag throughout this episode as the same red-headed woman can be seen in close-up screaming three separate times, at the beginning of each fight against the aliens, against the Santas and against the toy army.
The two children Red Tornado saves are blond at the time of the rescue, yet when he returns to their house later to sing carols, their hair color has changed to black and brown respectively.
This is the first time Batman's butler, Alfred, is mentioned, and Bruce Wayne as a child is shown.
Diedrich Bader as Batman
Will Friedle as Blue Beetle
Thomas F. Wilson as Sportsmaster/Santa
Corey Burton as Red Tornado/Professor Ulthoom
Zachary Gordon as Young Bruce/Kid #1
Liliana Mumy as Doll/Kid #2
James Arnold Taylor as Father
Gary Anthony Williams as Fun Haus