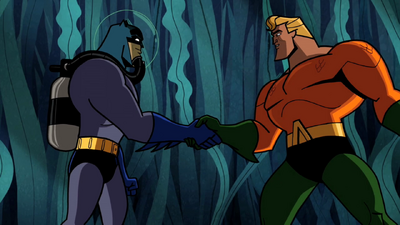 Bold Beginnings! is the sixty-first episode of Batman: The Brave and the Bold.
September 30, 2011
Batman and Space Ghost team up to save Jan, Jace, and Blip from Creature King.
Main Plot
Edit
When Green Arrow, Elongated Man, and Aquaman are captured by Mr. Freeze, they reminisce about the early days of their careers when they first worked with Batman against the Cavalier and Ruby Ryder, Baby-Face, and Black Manta.
???
Diedrich Bader as Batman
Gary Owens as Space Ghost
James Arnold Taylor as Jace/Green Arrow
Cathy Cavadini as Jan/Ruby Ryder
Gregg Berger as Creature King/Hammer Toes
Tom Kenny as Plastic Man/Baby-Face
John DiMaggio as Aquaman/Mr. Freeze
Greg Ellis as Cavalier
Kevin Michael Richardson as Black Manta