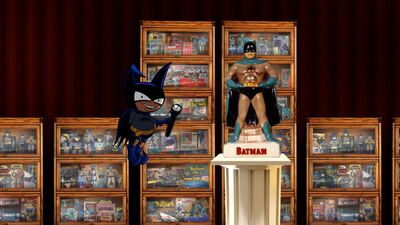 Bat-Mite Presents: Batman's Strangest Cases! is the fifty-first episode of Batman: The Brave and the Bold.
December 3, 2010
A recreation of the Mad magazine parody "Bat Boy and Rubin", as the title characters try to solve a wave of murders.
Main Plot
Edit
Bat-Mite hosts a look at two other incarnations of Batman: a version referencing Jiro Kuwata's Batman featured in Bat-Manga!: The Secret History of Batman in Japan, in which Batman and Robin take on Lord Death Man, and a crossover featuring Scooby-Doo and the Mystery Inc. gang, who assist the Dynamic Duo in rescuing "Weird Al" Yankovic from the Joker and the Penguin.
???
Paul Reubens as Bat-Mite
Frank Welker as Bat-Boy/Scooby-Doo/Fred Jones/Batman (Scooby-Doo Version)
Jeff Bennett as Rubin/Penguin (Scooby-Doo Version)
Corey Burton as Batman (Bat-Manga Version)/Joker (Scooby-Doo Version)
Grey DeLisle as Robin (Bat-Manga Version)/Daphne Blake
Mindy Cohn as Velma Dinkley
Matthew Lillard as Shaggy Rogers
"Weird Al" Yankovic as himself/Mr. Star
Diedrich Bader as Lord Death Man/Creepy Usher